We often get asked, "Are rubber roofs any good?" Well if you're looking for something that will last longer than you can first imagine, then keep reading.
Of course just with anything out there, there are benefits and disadvantages to Rubber Roofing. And we will discuss them below….
Pros
– Long Lasting
Rubber roofs typically have an age range that can last a lot longer than you think. Generally, when people think of rubber roofs, they imagine that something of a rubber nature won't last very long. However, this couldn't be further from the truth – as Rubber Roofing can typically last from 30 to 50 years.
– Durable & Tough
Again, just as above, people often think that rubber is not reliable and can be susceptible to damage. However, this again is further from the truth. Rubber roofs actually hold up well against harsh weather conditions such as winds, rain and worse. Rubber roofs are also flame retardant. Rubber roofs are also ozone and UV stable, making them non-perishable.
– Environmentally Friendly
Rubber roofs are generally made out of materials that are deemed to be environmentally friendly. The associations Greenpeace and ACTAC have deemed rubber roofs as the leading choice for roofing where environmental properties have to be considered. Rubber also acts as an insulator that can help to cut costs in the winter.
– General Benefits
Rubber Roofs are generally lightweight which make them easier to move and haul accordingly. It is also waterproof, which makes it an ideal material from keeping water away. And in general, if the situation arises where repairs are needed, then this can be done with minimum fuss.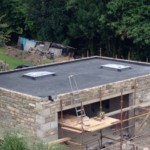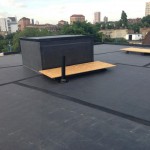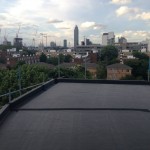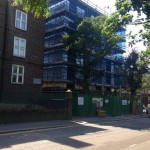 Cons
An EPDM Rubber roof is only as good as the people who install it, our team are fully trained installers with years of experience so you can be rest assured that you are getting expert workmanship.
On some occasions the initial cost of an EPDM Rubber Roof can be a little bit more expensive than a felt roof for example. This is offset by the fact that the rubber roof has a life expectancy of 50 years where as a felt roof could need placing in a significant shorter time than this