EPDM Flat Roofing Supplies From Yorkshire's Largest Stockist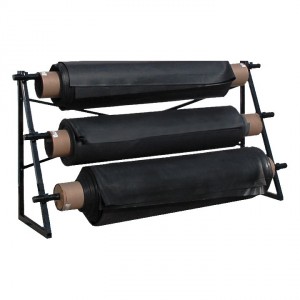 Alvadac's flat roof supplies are not only very cost-effective, but of the highest quality as well. You see with cost-effectiveness sometimes comes concern about quality of workmanship and materials, which can lead to expensive alternatives. These are not needed with Alvadac.
Alvadac gives you the supplies and accessories needed to get the job done at a reasonable cost. Our products can be used in a variety of environments. From garages to houses, our supplies allow for all flat roof installations to be thought about, planned out, worked on and completed whether using an EPDM system or not. We carry all types of EPDM flat roof supplies needed for getting the job done, and done right to the highest standards.
As Yorkshire's largest stockist of flat roofing equipment & supplies you can be sure that we will have whatever you need in stock and have it ready to go at the most competitive rates around. We stock all of the latest accessories needed so you don't have to go shopping anywhere else for more equipment needed to do the job. This makes us a one-stop shop for all of your flat roofing needs.
All Alvadac's flat roofing supplies can be collected from our Bradford based warehouse or delivered locally throughout Yorkshire the same day for no extra charge. We also offer a national delivery service for customers outside the Yorkshire area.
So, What Is EPDM Flat Rubber Roofing?
EPDM flat rubber roofing is a fantastic roofing solution. EPDM, which stands for Ethylene Propylene Diene Monomer, is a type of synthetic rubber created from oil, ethylene propylene (a natural gas) and diene (an unsaturated hydrocarbon containing two double bonds between carbon atoms). To make it usable for roofing, the EPDM rubber is vulcanised or dried out, and turned into sheets of roofing membrane.
EPDM rubber can be used for a wide range of flat roofs, from large and small to domestic and residential. It's a popular and effective solution for garages, houses, sheds, car ports, tree houses, extensions and bay window roofs. EPDM is extremely versatile. In addition to roofing, it's used for heating, ventilation and air conditioning (HVAC), automotive and industrial purposes
What are the Benefits of EPDM Flat Rubber Roofing?
Highly Durable — EPDM is a high-density and highly durable material that can be used in the outdoors for decades without degrading.
Safe — EPDM rubber has excellent resistant properties against fire, heat, light, ozone and steam. Should a fire spread to your garage or house, an EPDM rubber roof won't perish and can help to impede the effects of the fire.
Cost-effective — EPDM rubber lasts for several decades without requiring you to spend money on refurbishment or replacement. For added peace of mind, we offer a 20-year guarantee on our EPDM supplies.
Weather-resistant — EPDM rubber holds up in any type of weather, from heavy rain and strong winds to hot sun and harsh snow. It can withstand temperatures as high as 150°C and as low as -40°C.
Low maintenance — EPDM rubber requires little upkeep, which helps to reduce costs.
Good for shallow roof pitches — if the pitch of your roof is too shallow for traditional roof tiles or other materials, EPDM can be an excellent solution, creating a smart, waterproof, durable and low-maintenance roofing solution for your shallow-pitched roof. However, it's worth noting that EPDM rubber roofing can also be used on pitched roofs, including sheds and outhouses.
EPDM Installation
EPDM rubber roofing adheres best to timber, though can be used on other surfaces. When it comes to installing your EPDM roof, you should make sure to clean the roof surface before you begin laying your EPDM rubber. Any water or debris like dust, grease, loose material, dust or oil on the surface of the roof will prevent the EPDM rubber from adhering properly, so make sure the roof surface is clean and dry. As EPDM is often used as a replacement for bitumen roofs, installers often have to contend with residual bitumen. This should be removed or boarded over as it will poorly affect the performance of the EPDM rubber.
When first laid out, you should give the EPDM rubber around half an hour to sit in position. This allows the membrane to "relax" and ensure you get an excellent fit on your new roof. Then, in sections, apply a water-based or contact adhesive to the roof surface. If using a water-based adhesive, the outside temperature should be above 4 degrees celsius, with no chance of freezing temperatures for 24-48 hours after installation. If this is the case, a very thin contact adhesive can be used instead. Whether you are using water-based or contact adhesive for the main body of the roof membrane, you should leave around a 150mm gap around the edges of the roof, to then be sealed with contact adhesive. This edge adhesive should be applied to both the roof and EPDM rubber, and allowed to become completely touch-dry to prevent bubbles or blisters from appearing.
Why Choose Alvadac?
Alvadac offers all the EPDM flat rubber roofing supplies and accessories you need to get the job done. As the largest EPDM flat rubber roof supplier in the Bradford and Leeds area, we always have thousands of metres of EPDM rubber in stock so you can be sure to find everything you need in one place. We're trusted by a wide-ranging network of professional installers and surveyors across our home county of Yorkshire and the rest of the UK.
We source only the highest quality materials so you can rely on EPDM supplies and accessories that are durable, long-lasting and easy to install. We offer reasonable prices and all of our products come with a 20-year guarantee, so you can be sure to get great value for your money.
Our EPDM supplies are available for collection from our warehouse in Bradford, or if you're based locally in the Yorkshire area, we can deliver to you for free on the same day. We also offer a national next day delivery service if you're based outside of Yorkshire.
Since 1998, we've developed an excellent reputation that we're proud of. It's why we're rated 9.90 on Checkatrade by our customers. As a family-run business built on Yorkshire values, we firmly believe in providing excellent customer service with support and advice on any purchase. It's why we're rated 9.90 on Checkatrade by our customers.
If you're looking for high-quality EPDM flat rubber roofing supplies at competitive prices, get in touch with Alvadac on 01274 317091 or at info@alvadac.com to get a free, no-obligation quote and see just how much you could save if you decided to choose Alvadac.
EPDM Rubber Roofing FAQs
How long does EPDM rubber roofing last?
EPDM rubber roofing can last for over 50 years, with little to no maintenance!
Can I walk on EPDM rubber roofs?
EPDM is good for areas with low footfall, like fire exits, or for cleaning and maintenance. If your project will involve more foot traffic, you can lay a variety of materials on top of the EPDM rubber roof to increase durability in high footfall areas, like balconies or rooftop gardens.
What tools do I need for EPDM roof installation?
You'll typically need a brush, 9-inch roller and mini roller to apply the adhesive needed for EPDM rubber roof installation.
Can I join EPDM rubber sheets?
Yes! It is easy to join multiple sheets of EPDM rubber roofing, where the area is particularly large or irregularly shaped. You can do this with seam tape or heat welding, depending on the type of EPDM you use, the surface underneath and the thickness of the EPDM.